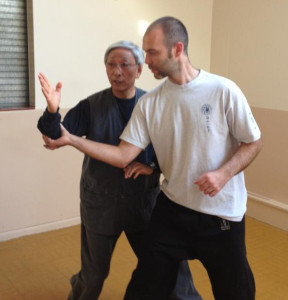 I played water polo in high school.  In my final year I was voted the Most Valuable Player on my team and I made it onto the All State team.  I did not continue with water polo but I kept going to the gym, mostly weightlifting so that I would look good and feel strong.
Slowly my health deteriorated.  When I was 26 there was a critical point.  After a decade of computer gaming and a career in IT, coupled with lack of healthy exercise and too much partying, I felt like I needed a new spine.  My back was so stiff and out of alignment that at one point my neck became completely frozen.  It took me hours to go to sleep every night.  Lying awake and in pain I was desperate for something that would make my body stronger.  Yoga and physiotherapy did not help me at this point.  I was still able to go swimming every day and this allowed me to carry on working but it didn't seem to improve the situation.
At this time I remembered a talk I once had with a relative of mine who was a Yoga guru regarding meditation.  She explained that it was a way to develop the mind.  I was curious as to what it was like, so I checked out what was available locally.  I was living in Oxford and there were several options around.  Daoist movement meditation, Qi Gong, sounded the most intriguing.  May be it had to do with some Daoist statements I had previously read that really impressed me.  "Thoughts are the crests on the waves of consciousness".  I thought that was some clever stuff, especially considering how long ago it was written.
I went to a popular school that has a large following in US and Europe.  During the first class I experienced a feeling that felt like something which had been missing my whole life.  Afterwards my back became even stiffer for 3 days but then it felt better.  I kept going back because the exercises I learnt there were really helping but I wasn't buying everything that was being presented along with the exercise.  It was too "New Age" for me and I felt the school lacked depth.  I have a Master's degree in Aeronautics and Astronautics from Stanford University.  I needed something that could stand up to the rigor of my analytical mind.
I did some research and found out that this knowledge came from Martial Arts.  I thought that a real Martial Arts school would only be interested in things that really worked and would still have the deepest knowledge.  I found out that Ba Gua Zhang had the reputation for being the most advanced of this type of arts and looked for the best school available.  I looked at the books and videos being sold on the subject.  One stood out judging by the reviews.  It was Park Bok Nam's "Fundamentals of Ba Gua Zhang".  I bought the book and started practicing on my own.  About 6 months later I realized he was doing seminars in England and so I booked myself on.  That was it, after the first seminar I knew I had found my teacher.
Around this time I was offered a very nice voluntary redundancy package.  I took it and spent the next 2 years training as many hours a day as my body could take, working part time, and touching my computer as little as possible.  Eventually I had to return to full time employment but continued training around 10 hours a week.  Now at 40 I am healthier and stronger than I ever was.